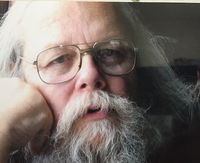 Pete (Gary) E. Brown
Pete (Gary E.) Brown, age 77 of Lakeview, NY, died Thursday September 28th, 2017 in his home. He was born on January 5th, 1940 in Johnson City NY

Pete worked as a tool and die maker for 35 years at the Ford Stamping Plant. For many years he enjoyed a wood carving group with friends that he worked with.

Pete was a proud and active board member of the Hamburg Historical Society. He headed the Accession Committee and was very knowledgeable in antiques and their history. Pete's friends at the historical museum expressed their sadness after hearing that he had passed away.

Besides his parents, Harold and Gertrude, Pete is preceded in death by his only brother, Ken Brown who died in May of last year.

He is survived by his sister in law, Kathy Brown and his two nephews, Mike (Marcy) Brown and Brad (Kim Stout) Brown

Funeral services will be held by the family at a later date.

Arrangements have been entrusted to the Laing Funeral Home Inc., 2724 W. Church St. Eden, NY 14057. Our family thanks them for their kindness and professionalism.

Memorials made be made to the Hamburg Historical Society 5859 South Park Ave. Hamburg, NY 14075

Words of sympathy may be made on www.LaingFuneralHome.com.