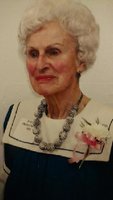 Evelyn Ryther Savage

Evelyn Ryther Savage, 100, formerly of Eden, NY died peacefully in her daughter's Illinois home on November 7, 2017.
Evelyn was born on September 9, 1917 to Catherine (Coleman) and Warren Ryther.
She married W Kenneth Savage of Buffalo in her family home on September 16,1944.
A 1935 graduate of Eden High School, Evelyn was a member of the high school band, the girls basketball team of which she often fondly spoke and as well was her Junior class President and Senior class Secretary.
As an active volunteer, Evelyn was involved with the Eden Historical Society, the Eden United Methodist Church, Eden AFS, the Eden election board, the town food pantry and with the American Red Cross for over 35 years.
Evelyn was an avid gardener and bird enthusiast taking great pleasure in maintaining her Eden property with her husband Ken.
Above all else was Evelyn's love for family. She is survived by her daughter Pamela and her husband Marion Roglich, her beloved grandchildren Evan and Madeleine, and her dear nephews and nieces from Belize, Vermont, Illinois, Oregon and New York. She is preceded in death by her brothers David of Eden, NY; Coleman of Canandaigua, NY; Warren of Morris, NY; and her sister Marjorie of Eden, NY.
A memorial service will be held at the Eden United Methodist Church on Saturday, December 2, 2017 at 1:00PM.
In lieu of flowers, memorials may be made in her name to the Eden United Methodist Church Memorial Fund (2820 E Church St, Eden, NY 14057) and the Eden Historical Society (PO Box 2, Eden, NY 14057).
Arrangements are entrusted to the Laing Funeral Home Inc. 2724 W. Church St. Eden, NY 14057
Words of sympathy may be made on www.LaingFuneralHome.com