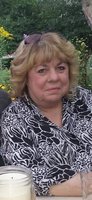 Thelma "Terry" E. Filbey
Filbey – Thelma E. (Nee: Lorenz)
Thelma "Terry" Filbey, age 74 of Eden, NY, passed away on November 23, 2017.
Daughter of late Earl and Marjorie Lorenz
Beloved wife of the late Denis Filbey and Companion of the late Ferdinand Strozewski.
Loving mother of Yvette (Doug) Sobaszek, Christopher (Debbie) Filbey, Carrie Klinczar, Holly Filbey, and Rebecca (Michael) Goodman.
Loving sister of the late Edward (Diane) Kohl, Sharon (Jerry) Lagenor, Earl (Donna) Lorenz, and Wayne (Debra) Lorenz.
Loving grandmother of Michael (Kaula) Carr, Brandon Sobaszek, Kristin (Josh) Tripi, Jacob Filbey, Amanda Klinczar, Elijah Filbey, and Violet and Grady Goodman.
Survived by 5 great grandchildren, many nieces, nephews and friends.
Terry worked as a Flight Attendant, School Bus Driver, and a supervisor at GE Capital Management. After retirement Terry worked at Tim Horton's where she loved meeting and talking with her customers.
Terry was a long time member of the Newell - Faulkner American Legion Post 880 Ladies Auxiliary and was the face of the Queen of Hearts.
A Celebration of life will be held on December 17, 2017 at 10:30 am at the Newell - Faulkner American Legion Post 880.
In lieu of flowers, memorials may be made to Eden Emergency and Rescue Squad or to the Eden Police Department.
Words of sympathy on www.LaingFuneralHome.com