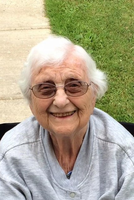 Stella M. Goodridge
Stella M. Goodridge, age 99, short 41 days of her 100 birthday died Wednesday, January 17, 2018 after a short illness. She was born on February 27, 1918 in Eden, New York. She was a daughter of the late Fredrick and Evelina (Dusch) Switzer.
She married her loving husband; the late George Goodridge.
Stella was an active member of the Immaculate Conception Church. There she made many crafts for the church bazars, was a member of the Alter and Rosary Society. She also ironed the vestments for the Priests. She was a life time member of the Eden Bog Trotters Rifle and Pistol Club.
She will be remembered for her needle point work, her hospitality and her smile. She enjoyed entertaining company.
Besides her parents, Stella is preceded in death by her husband George Goodridge, her brothers; Earl, Elmer and Lawrence and her sisters; Agnes, Evelyn, Ann and Florence.
She is survived by many nieces and nephews.
Family invites friends Friday, January 19, 2018 from 2-4 & 7-9PM at Laing Funeral Home Inc. 2724 W. Church St. Eden, NY
Mass of Christian Burial will be held Saturday, January 20, 2018 at 10AM in Immaculate Conception Church Eden.
Flowers gratefully declined. Memorials to Immaculate Conception Church.
Words of sympathy on www.LaingFuneralhome.com