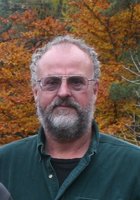 Michael E. Courier
Michael E Courier of Hendersonville NC, originally of Buffalo NY, age 65, died peacefully January 18, 2018. Devoted husband of Debbie (née Shelter) and loving father of Taylor. Son of the late Edward and Louise Courier; brother of Kathy (Norm) Vitue, Patricia (late Bill) Seychew, Peggy (George) Pierakos, Lori (Chris) Hull, the late Daniel and Jim Courier. Devoted brother-in-law to Kellie, Patsy, Lindy, Kevin, Mark, Timmy, and Paul Shelter. Also survived by many other family and friends.
Mike will be remembered by family and friends as a man who could do anything. From working as a machinist, to a life-long career as a heavy equipment mechanic, he loved getting his hands dirty. He was a tireless worker, who always put in the extra effort to do things the right way. Outside of work, he enjoyed hobbies ranging from blacksmithing to wood turning. He was a devoted father, enthusiastically volunteering with many of son Taylor's activities, including as a leader and mentor with both Boy Scouts and FIRST Robotics. Many of his friends and colleagues remark that Mike could always build or do anything he put his mind to.
He also enjoyed traveling, driving cross-country many times with his family. From a trip from NY to Mexico in a tiny red Mazda, to coast-to-coast drives visiting every national park along the way, to a long drive from Alaska to Buffalo along the AlCan and Trans-Canada highways, he always had a sense of adventure.
Mike was a friend to everyone. He was noted for his sense of humor and friendliness. He always had a joke or a kind word to lighten up any situation.
Family and friends are invited to visit and share remembrances Monday, January 29th from 3-7 pm at Laing Funeral Home Inc., 2724 W. Church St, Eden.
Funeral Mass will be celebrated Tuesday, January 30th at 11:15 am at St Thomas Aquinas, 450 Abbott Rd, Buffalo.
Memories and photographs may be shared at www.weremember.com/michael-courier/p16-tse/.