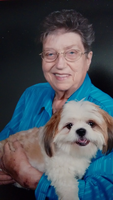 Jane Ferrie
FERRIE, JANE (nee Logel), age 84, of Hamburg, New York formerly of Eden, New York died January 26, 2018
She was the wife of late Edward Jr. Mother of Bud, Peggie (Rick) Preischel and Kathy Ferrie. Also survived by three brothers, Edward (Carole), William (Paula) and Peter (Tracy). Predeceased by her parents Edward and Ellen Logel, two sisters, Julia and Peggy and three brothers John, Paul, and Tippy Logel.
Survived by two step-grandchildren: Joe (Carrie) and Rick Preischel; six grandchildren, Andy (Candice) and Becky Preischel. Bob, Sam (Bryan) Sutton, Colleen and Mark Martin. Three Step-Great-Grandchildren: Joe Preischel. Autumn, Allyson Wielgasz and one Great-Grandchild: Rylie Sutton.
Jane taught elementary school at SS. Peter & Paul Catholic School and retired after 30 years of service at Hopevale, Inc.
A memorial service will be held on Saturday, February 17, 2018 at 10:00 am at SS. Peter & Paul Church, 66 E. Main St. Hamburg. - donations may be made in her honor to the SS. Peter & Paul School c/o Don for Tuition Assistance, 68 Main St. Hamburg.
Arrangements have been entrusted to Laing Funeral Home Inc. 2724 W. Church St., Eden, NY
Words of sympathy may be made on www.LaingFuneralHome.com