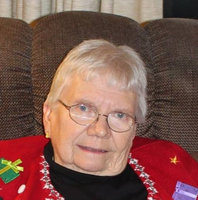 Janice E. Carter
Janice E. Carter (nee: Cohoon) died unexpectedly at the age of 77 in her home on Friday, February 2, 2018.
She was born to Clarence G. and Martha C. (Kromer) Cohoon on February 4, 1940 in Eden, New York; where she lived her entire life. Janice is predeceased by her parents and her husband John A. Carter, who died February 6, 1976.
Janice was a lifelong member of St. Paul's Lutheran Church in Eden. She also proudly contributed to her community in many ways. She served as the Treasurer of the Eden Corn Festival for over 25 years. She was also a dedicated member, leader and tireless volunteer of the local 4H for 50+ years, over 20 of which included daily service during the Erie County Fair promoting the principles and values of 4H.
Something that brought Janice great pleasure was using her many talents including quilting, sewing and crafting to commemorate special events in the lives of her loved ones. Most importantly, Janice was someone that everyone knew to be kind, loyal and loving. She made a difference in the lives of everyone she encountered. The bond that she shared with her daughter Michelle was something to behold and was treasured by both. Her especially picky grandchildren will miss her "plain Jane" mac and cheese and the warm smile that greeted them each time they saw her. It was the time spent with her grandchildren that brought both her and them the most joy.
Janice is survived by her daughter, Michelle (Greg) Gonter; son, Michael (Carol) McLaughlin; grandchildren Owen Gonter, Caitlin Gonter, John McLaughlin and Jillian McLaughlin; brother Marvin (Jayne) Cohoon and her nephew Christian Cohoon.
Family invites friends to call from 2-4PM and 7-9PM on Monday, February 5, 2018 in the Laing Funeral Home Inc. 2724 W. Church St. Eden, NY 14057.
A Funeral Service will be held Tuesday, February 6, 2018 at 11:00AM in the St. Paul's Lutheran Church, 3487 N. Boston Road, Eden, NY. Pastor Thomas Lutz will officiate. Burial will take place in the St. Paul's Lutheran Cemetery, alongside her husband.
Memorials may be made to the St. Paul's Lutheran Church Memorial Fund.
Words of sympathy may be made on www.LaingFuneralHome.com