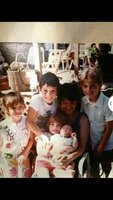 Patricia J. Barrett
Patricia J. Barrett, age 61, of Eden, New York died Thursday, June 1, 2017 at Mercy Hospital. She was best known for the love she had for her family, especially her children and grandchildren.
She was the devoted mother of Aaron, Brian, Kellie, Kasey and Karra Barrett. She adored her three grandchildren; Bradley Barrett, Barrett Pochron and Donovan Barrett.
She was the loving sister of Kellie Thompson, Debbie Courier, Lindy Lovell, Mark, Timothy, Paul, and the late Kevin Shelter.
Family invites friends to call on Tuesday, June 6, 2017 from 3pm-6pm with a time for memory sharing at 5:30PM at the Laing Funeral Home Inc. 2724 W. Church St. Eden, NY
Words of sympathy may be left on www.LaingFuneralHome.com