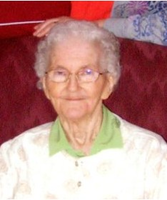 Louise F. Janiga
JANIGA-Louise F. (nee: Ptak) age 88, was born and lived 67 years in Eden, NY, died April 9, 2018. She was the daughter of the late Michael and Mary Ptak. She was the wife of the late Leonard, mother of Leonard (Mabel), Richard (Lucille), Michael (Kathy) and Gregory Janiga.
Grandmother of 15 and Great Grandmother of 6.
Sister of the late Stanley (Ida), John (Mary) Henry, Chester (Mary) Ptak, Cecelia (Bronislaus) Janiga and Dorothy (Joseph) Michalczak.
She enjoyed ceramics and working with growing plants and gardening.
She worked for Turnbull, Concord as well as Condon & Weller Nurseries. She spent many evenings with Evie Turnbull assisting her with pouring and organizing the ceramics for her classes.
Family and friends are invited to call from 4-8PM on Thursday at the Laing Funeral Home Inc., 2724 W. Church St. Eden, NY
A Mass of Christian Burial will take place Friday at 10AM in Immaculate Conception Church, Eden, NY
Words of sympathy may be left on www.LaingFuneralHome.com