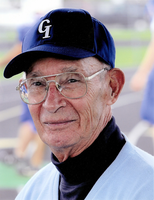 Horace David Myers
MYERS – Horace David
Horace David Myers passed away at 97 years of age in the Town of Tonawanda, NY on May 13, 2018. He fought until his final minutes.
H. David Myers is known as the "Father of Grand Island Athletics". He was instrumental in the expansion of the Grand Island School system. He oversaw the construction of all the athletic facilities in the elementary, middle and senior high schools and was honored for his efforts in September 2014 when the new GI High School Athletic Complex was dedicated to him.
H. David Myers was a champion of public school athletics. He named the Grand Island athletic teams the "Vikings." He always felt he had the support of the Grand Island residents and was proud of all the GI Viking athletes and the men and women he hired as teachers and coaches.
H. David Myers was born August 19, 1920 in Hornell NY only child of Horace David and Gertrude Bunker Myers. He grew up in Eden, NY with his childhood sweetheart and later wife Alice Jean Baldauf. He spent his formative years playing sports, hunting and working odd jobs.
In 1938, H. David attended Springfield College, but a family emergency forced him to return to Buffalo. He restarted his education at SUNY Cortland where he ultimately graduated with a degree in physical education, however his return and graduation were interrupted by WW II. Rejected by the armed forces due to residual lung scarring, he supported the war effort building aircraft engines at the General Motors-Chevy Aviation Plant. His co-workers nicknamed him "Heavy Duty" because of his compact strength and his initials "H. D."; the nickname "Heavy" followed him. He married Alice in 1943 and moved to Lockport, NY before settling in the Town of Tonawanda. In 1949, Veronica Connor hired him to teach at Sidway Elementary School and together they inspired athletic and academic excellence for four decades. Alice passed away in 1994 from Parkinson's and in 1998 he married Julia Hill Laing (deceased 2013) of Eden, NY. He and Julie then "snow-birded" between Deland, FL and WNY enjoying traveling, new friends and bowling.
While in high school and college, H. David excelled in gymnastics, tennis, boxing, badminton, chess, hockey and above all soccer. He received numerous trophies and awards throughout his career. A soccer scholarship has been established in his name.
As a parent he took great pride in the academic and athletic achievements of his children and their spouses as well as the achievements of his grandchildren and their spouses.
From his first marriage, he is survived by his sons Douglas D (Jean) Myers and David E (Patricia) Myers MD of Williamsville NY, his daughter Deborah L (Cliff) Myers Meilun MD of North Kingstown RI. Grandchildren include David Scott (Michelle MD) Myers, Gwendolyn (Jonathan) Gingrich, Daniel (Elana Korn DDS) Myers, Kimberly Meilun, Rachel Meilun, and two great grandchildren Margaret Myers and Camille Gingrich.
From his second marriage he is survived by his step-sons David (Rose) Laing, William (Jill) Laing, and Harry (Karen) Laing, and is predeceased by a step-daughter Sue (Stevan) Light. He is also survived by seven step-grandchildren, four step- great grandchildren and five step-great great grandchildren.
Visitation is being held at the Laing Funeral Home Inc. www.LaingFuneralHome.com located at 2724 W Church St, Eden, NY 14057, (716) 992-9172 on May 17, 2018 from 1:00PM-4:00PM and 6:00PM – 9:00PM. A private funeral and internment is planned. In lieu of flowers, donations may be made to the H David Myers Soccer Scholarship Fund during visitation hours or mailed to 353 Kenmore Avenue, Kenmore, NY 14223.