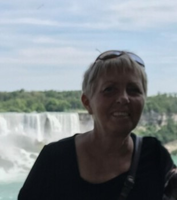 Michele T. Hathaway
Michele T. Hathaway (nee: Taggart), age 65, of Eden, New York died Sunday, June 17, 2018 in her home. She was born August 8, 1952 in Buffalo, New York. She was a daughter of the late LeRoy L. and Charlotte G. Taggart. In 1968 her family moved to Florence, South Carolina, where she graduated from the McClenaghan High School in 1970. She worked for the Union Carbide Corporation for over 20 years and was currently working as the office manager for H & R Block at the Hamburg, New York location.
She was an active member of the American Legion Post #800.
She was the devoted wife of the late Larry E. Hathaway, loving mother of Stephen J. Harper; sister of Dorothy (Jack) Heckman, Leslie (late Fred) Torstrup, Debby (Dave) Malcom, Janet (late Edd) Baldwin and Michael Taggart.
She is also survived by several nieces and nephews.
A memorial service will be held at 1:00PM on Saturday, July 21, 2018 in the home of Greg and Barb Engel, 43 Antoinette Dr., Depew, NY 14043
Memorials may be made to Roswell Park Alliance Foundation, PO Box 631, Buffalo, NY 14240
Arrangements entrusted to the Laing Funeral Home Inc., 2724 West Church St., Eden, NY.
Words of sympathy may be left on www.LaingFuneralHome.com