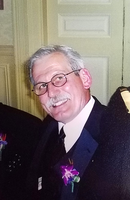 Benjamin J. Bucierka
Benjamin John Bucierka, 72, of Eden, New York, ended his battle with cancer and passed peacefully in the comfort of his own home surrounded by his family on Friday, June 22, 2018.
Ben, son of the late Wasyl and Sophie Bucierka, is survived by his loving wife of 46 years Helen, daughter Mary (Bucierka) Jowsey (James), son Theodore Bucierka (Suzy), brothers Raymond Bucierka, Michael Bucierka, Nicholas Bucierka, William Bucierka and loving grandchildren Jacob and Dylan Jowsey. Ben was a loving father, husband, grandfather, and friend to everyone.
Ben was born January 17, 1946 in Kassel, Germany and immigrated to Buffalo, New York with family at the age of fifteen. He graduated from East High School in Buffalo, New York in 1963 and later served in the U.S. Air Force during the Vietnam War. Upon return from the war, he met his loving wife of 46 years, Helen Amelia Allen, and in the fall of 1972 they married in Buffalo, New York.
Ben was employed for many years at South Buffalo Railway before the closure of the Bethlehem Steel Plant in 1983. Ben was a gifted carpenter and landscaper and shared his talents as a sales representative at Home Depot located on Milestrip Rd in Buffalo. Ben retired from Home Depot and enjoyed spending his time with his two grandsons Jacob and Dylan Jowsey as well as traveling with his wife. When not spending time with his family, Ben could always be found working on a new home improvement project at his residence in Eden.
The family will greet friends from 3-9pm on Friday, June 29, 2018 at Laing Funeral Home Inc., 2724 W. Church St, Eden NY 14057. A Funeral and Catholic service will be held on Saturday, June 30, 2018 at the Immaculate Conception Church at 10:00 AM located at 8791 S. Main St. Eden, NY 14057. Burial will follow at Evergreen Cemetery. In lieu of flowers, the family wishes for donations to be made to Hospice Care. Donations can be made online at the following address https://www.hospicebuffalo.com/giving/give-hospice/
Words of sympathy may be made on www.LaingFuneralHome.com