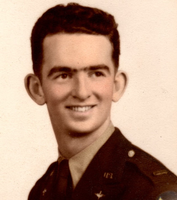 Arthur B. Smith, Jr.
Arthur B. Smith, Jr. age 96, of Eden, New York died Wednesday, January 02, 2019 in Absolut Care of Eden. He was born July 27, 1922 in Eden, New York. He was the son of the late Arthur B. Smith, Sr. and Doris I. (nee: Beehler) Smith.
Arthur worked for many years at the Bethlehem Steel Plant in Lackawanna, NY.
He proud served in the United State Army. He was an Airdrome Officer at Will Rogers Field in Oklahoma. He was responsible for checking all flight clearances as well as checking the field for any hazardous conditions that might endanger the aircraft. He met transient ships, celebrities and high ranking officers when landing at the field. He was in charge of seeing that ships were serviced and that crews had proper accommodation.
Family and friends are invited to a memorial service held at 6:30PM on Tuesday, January 8, 2019 at the Laing Funeral Home Inc., 2724 W. Church St. Eden, NY. Arthur will be laid to rest alongside his parents in the Evergreen Cemetery, Eden, NY
Words of sympathy may be left on www.LaingFuneralHome.com