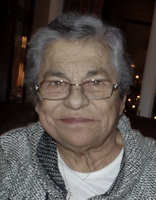 Marilyn "Mikie" E. Salzman
Marilyn Salzman, who peacefully slipped her way into heaven on Tuesday, January 8th, surrounded by her family. She was born Marilyn Kumpf in Gowanda on March 24, 1939 to Harold and Olive Kumpf. There she was raised along with her 4 sisters and 2 brothers. The bond she formed with her siblings, has been shared throughout the years. Always staying in touch and keeping up with each other on the recent events in their families and their lives. Family was extremely important to her.
Mikie, as she was known as to all who loved her, was married to Ron Salzman, May 12, 1962. There she raised 4 children who were her joy and world; Kathy, Ronnie, Randy, and Michelle. While raising the Children, Mikie also helped out by working in the greenhouses. As her Children grew and got married, Mikie was blessed with 7 Grandchildren and 4 Great-Grandchildren. Her constant presence and loving demeanor formed the warm memories that her Children and Great grandchildren will carry with them.
We will forever love and miss you Mikie.
Services will be held at Laing Funeral Home in Eden, Thursday from 7-9 pm and on Friday from 3-8 pm, with a mass of Christian burial on Saturday, 10 am at Immaculate Conception Church. In lieu of flowers, please make a donation to "Mikey's Way" at mikeysway.org