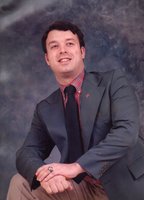 Robert G. "Bob" Stinnett
Robert G. Stinnett, age 63, of Eden, New York died on Monday, March 4, 2019 after a lengthy illness. He was born in Jamestown, New York on September 15, 1955. He was a son of Connie (nee:Rizzo) and late Gene Stinnett.
Robert graduated from Eden Central School in 1973. He enjoyed sports. He played football and baseball in high school and later on in life enjoyed a round of golf.
He is predeceased by his father, Gene E. Stinnett.
He is survived by his mother, Connie (nee: Rizzo) Stinnett, a brother; Owen Stinnett and a sister; Valerie (Richard) Sharp. He was the Uncle of Jared, Alex and Geena Sharp.
No prior visitation. Services will be private.
Arrangements entrusted to the Laing Funeral Home Inc. 2724 W. Church St. Eden, NY 14057
Memorials may be made to the American Diabetes Association, 4955 N Bailey Ave #217, Amherst, NY 14226.
Words of sympathy maybe left on www.LaingFuneralHome.com