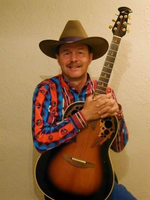 Henry C. "Hank" Elling
Henry Carl "Hank" Elling, age 70, of Eden, New York passed away in his home on Saturday, April 27, 2019. He was born in Lawton, Oklahoma on November 4, 1948, a son of late Carl and Florence (Hawthorne) Elling. They raised their family on a farm southeast of Cache, Oklahoma. Included, were sisters, Karen, Marel Lynn, Ardeth and Cynthia.
In school, he competed in the sports of basketball, baseball and track. He was also active in 4-H and FFA. Hank was fortunate to be asked to sing for school, community and church activities. Life changed in 1965 with the acquisition of a guitar, he played stringed instruments and sang for the public for the next fifty years.
Hank graduated from Cache School in 1967, attended Cameron College before transferring to Oklahoma State University and graduating in 1972. Agricultural Engineering was his field of study. Upon graduating, he was commissioned an officer in the U.S. Army and served two years active duty.
After military service, he held the following positions: Researcher at Texas A&M University, Peace Corps Volunteer in Malaysia and Water Resources Engineer for the Oklahoma Water Resources Board.
Hank acquired the following degrees and certifications: FFA State Farmer, B.S. in Agricultural Engineering, Commercial Pilot with Instrument Rating, Registered Professional Engineer, Certified Floodplain Manager, Mensa.
Coincident with his professional life, Hank assisted his parents in running their cow/calf farm. He took over management shortly before the passing of his father in 1994. Hank and his family always enjoyed using horses in the old-time Western style.
In 1986, Hank married the love of his life, Verna Hines, from Tuttle, Oklahoma. At the same time, he acquired a lovely daughter, Sheri. In 2009, Hank and his wife Verna moved to Western New York, to be close to Sheri, her husband, John Williams, his his grandchildren John-Matthew, Mary, Joshua, Gracie and Alijah and
Great grandchildren Leo and Ivy.
Hank drove a school bus in Silver Creek, New York.
In 2011, Hank was diagnosed with ALS and with the help and prayers of family and friends and WITH the grace of God, Hank continued to have a happy and productive life.
Family and friends are invited to call on Tuesday, April 30, 2019 from 2-4PM & 7-9PM at the Laing Funeral Home Inc. 2724 W. Church St. Eden, NY 14057.
A celebration of life will be held Wednesday, May 1, 2019 at 10:00AM in the Eden United Methodist Church 2820 E. Church St., Eden, NY.
Flowers gratefully declined. Memorials may be made to Paralyzed Veterans of America at www.pva.org; the Eden United Methodist Church, 2820 E. Church St. Eden, NY or the Gage Chapel Community Church, 465 King Rd, Forestville, NY or the Lawton Wesley Chapel, PO Box 6025 Lawton, OK 73506.
Words of symapthy may be made on www.LaingFuneralHome.com