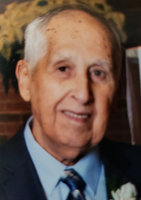 Dominick "Chip" Catalano
Dominick "Chip" Catalano, age 87, of Forestville, passed away May 19, 2019 at Gowanda Rehabilitation and Nursing Center. Mr. Catalano was born July 10, 1931 in Buffalo, NY to Dominick and Josephine (Mateczom) Catalano. He worked at Muscato Farms in Brant most of his life and after retirement at Evangola State Park in the maintenance department. He served in the US Marine Corps during the Korean War.
Survivors include his wife Lucy (Muscato), a daughter Sandy (Donald) Wells of Hilton, NY, a son, Mark (Lynette) Catalano of Forestville, four grandchildren, Jeni (Kyle) Whigham, Stacy (Chad) Cummins, Kendra Catalano and Derek Catalano, two great-grandchildren, Brenden and Nolan Whigham, two sisters, Catherine Green and Jo Ann Poulsen, and a brother, Stanley Catalano. He is predeceased by two brothers, Anthony and John Catalano.
Friends are welcome to call at the Laing Funeral Home Inc., 2724 W. Church St. Eden on Wednesday from 5:00-8:00 PM. A mass of Christian Burial will be celebrated on Thursday at 10:00 AM in St. Anthony's RC Church in Farnham. A private interment will take place at a later date at Our Lady of Mt Carmel Cemetery in Brant.