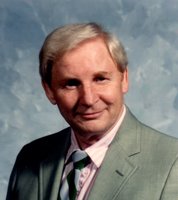 Brent W. Doyle
Brent W. Doyle, of Eden, New York, age 90, died on Thursday, May 30, 2019. He was born on February 16, 1929 in Stockertown, Pennsylvania. He was a son of the late Bruce and Linda (Miller) Doyle.
He was the owner and operator of Doyle Transportation Agency in Buffalo, New York until his retirement.
Brent is survived by his wife, Bernice K. (Brusehaber) Doyle; a son, Rev. Brent W. (Alice) Doyle; a daughter Beth (Greg) Wannenwetsch; his step children, Nancy (Ernest) Ward, Carol (James) Brucato, Jay (Margaret) Braymiller, Daniel "Digger" (Kirstin) Braymiller
Also survived by several grandchildren and great grandchildren.
Services will be private.
Memorials may be made to St. Paul's Lutheran Church, 3487 N. Boston Road, Eden, NY
Words of sympathy may be left on www.LaingFuneralHome.com