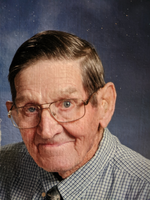 William W. Errington
William W. Errington, age 93, of East Eden, New York passed away Wednesday, July 3, 2019 in East Side Nursing Facility in Warsaw, New York. He was born March 13, 1926 in Colden, New York. He was a son of the late Everett and Edith (Westendorf) Errington. He was the last of 9 siblings. He married the love of his life; the former Marion Gier. They were married for 66 years.
Bill was a member of St. John the Baptist R.C. Church in Boston, New York, the Knights of Columbus and St. Mary's Holy Name Society in East Eden.
He was a WWII Navy Veteran. He was employed for 32 years at Republic Steel in Buffalo, New York, then he worked for Creekside Apartments.
At the age of 11, Bill became a foster child of Wesley and Virginia Thacks.
Bill was a devoted Catholic, an avid bingo player and was known as a great gardener. He took such pride in his strawberries, apples and hedges.
He enjoyed cooking, and canning, as well as holding family picnics at his home.
Loving father of Ron Errington, Edith (Gus) Parkhurst, William Errington Jr., Pauline (Gary) Masters, Daniel Errington and Brenda (Robert) Dillon.
Grandfather of 19 Grandchildren and 31 Great Grandchildren.
A Mass will be held Monday at 10AM in St. Mary's Church, 8175 E. Eden Road, Eden.
Words of sympathy may be made on www.LaingFuneralHome.com