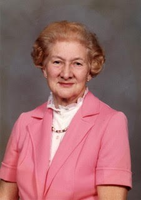 Irene S. Lilga
Irene S. (Donhauser) Lilga, age 99, died July 1 at the Life Care Center of Raynham, MA. Born on Nov.4, 1919 she was the daughter of Clara (Bugenhagen) and Raymond Donhauser. Irene was preceded in death by her husband of 30 years, Chester H. Lilga.
Born and raised in Hamburg, NY, she moved to Eden, NY after marrying and raised her family there. Along with her husband, Irene was an active member of St. Paul's Lutheran Church in Eden. Irene worked for many years as a bookkeeper at Curtiss-Wright and Knoche Buick. At the age of 80 Irene moved to Fairfield, PA to be near her daughter Nancy. Twelve years later she moved to Assisted Living near her daughter Pat in Middleboro, MA.
Irene loved to read and was a volunteer at the local library in Fairfield. She also volunteered at the Fairfield Elementery School. Irene loved to travel and has visited many areas of the U.S., including Alaska and Hawaii. She also has visited China, Greece, Australia and New Zealand, many European countries, and has cruised the Caribbean.
Irene is survived by her sister Betty (Lester) Hensel. Irene was the devoted mother of Donald (Sharon) Lilga, Patricia (Daniel) Heather and Nancy (Francis) McIlvaine. She is also survived by her grandchildren Jeffrey, Scott, Julie, Heather and Jennifer, and great-grandchildren Kenedi, Mackenzie, Matthew, Daniel, Jared, Alex, and Harper.
A memorial service will be held Sunday, September 1, at 12:00 noon, at St Paul's Lutheran Church, 3487 North Boston Road, Eden, NY. A light luncheon will follow.
Donations in Irene's memory may be made to St. Paul's Lutheran Church, 3487 North Boston Road, Eden, NY 14057 or to the Alzheimer's Association, 225 Michigan Ave. 17th Floor, Chicago, IL 60601-7633 or online at www.alz.org.
Local Arrangements entrusted to Laing Funeral Home Inc. 2724 W. Church St. Eden, NY
Words of sympathy may be made on www.LaingFuneralHome.com