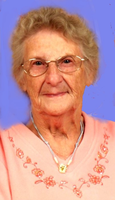 Pauline E. Cole
Pauline E. Cole, age 91, of Mayville, New York died Sunday, August 4, 2019 in her residence, with her family by her side. She was born September 21, 1927 in Salamanca, New York. She was a daughter of the late Frank and Nellie (Johnson) Cole. She was married to the love of her life, Douglas L. Cole who died February 19, 1999. They were married for 53 years. She was a member of the North Harmony United Methodist Church, the United Methodist Women's, the Mayville VFW Post 8647; where she sat on many committees and the Mayville American Legion. She was a Life Member and Past President of the Chautauqua Fire Department Auxiliary and was a member of the North Harmony Senior Citizens Center as well as the Mayville Senior Center. She also was proud to work for Chautauqua County Emergency Services.
Pauline retired form Home Health Care in her mid-80s, as well as waited on tables for the VFW until the age of 84.
Pauline enjoyed crocheting and knitting winter hats and slipper socks for various charities. She enjoyed spending time with her many friends and family.
Besides her parents and her husband Douglas L. Cole, she is preceded in death by a sister, Jeanette Marsh.
She is survived by her children; Betty Ann (John) Belshan, Lawrence "Butch" (Peggy) Cole, Paul (JoAnn) Cole, Virginia (Norman) Mattson and Jane (Gene) Johnson; a sister, Marie (late Terry) Stanton; many grandchildren, great grandchildren, great-great grandchildren, nieces and nephews.
Family and friends are invited to call at the North Harmony United Methodist Church, 6814 Sherman-Stedman Rd. Sherman, NY 14781 on Wednesday, August 7, 2019 from 2-4PM & 7-9PM, followed by a funeral service at the church on Thursday, August 8, 2019 at 10:00 AM.
Memorials may be made to the North Harmony United Methodist Church or Chautauqua County Hospice.
Funeral arrangements were entrusted to Gabriel G. Johnson, Pauline's grandson, with the Laing Funeral Home Inc. 2724 W. Church St. Eden, NY
Words of sympathy may be left on www.LaingFuneralhome.com