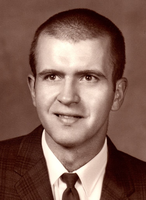 Michael E. Romanowski
ROMANOWSKI-Michael E. of Eden, NY, age 79 died August 18, 2019 under the care of Hospice Buffalo. Son of the late Casimer and Lorreta (Leszczynski) and Meda Romanowski.
Husband of Marjorie (Kazukietas). Father of Marcia L and Matthew C (Karen MacGregor). Grandfather of Christopher, Andrew, Evan and Jessica.
Brother of George (Sandra) Romanowski. Also survived by sister-in-law Eileen (late Paul) Schnettler and Judith Kazukietas and several nieces and nephews.
Predeceased by his In-laws; Stanley and Mary Kazukietas and brother-in-law; Stanley J. Kazukietas.
Michael was a steel worker at the former Bethlehem Steel in Lackawanna for 24 years. He worked as a Groundskeeper at Immaculate Conception Church. He was a member of the Holy Name Society, he was an Usher and was part of the Collins Correctional Ministry.
No prior Visitation.
Memorial Mass will be held on Saturday at 10:30AM in Immaculate Conception Church, 8791 N. Main St. Eden. (Please assemble at Church)
In lieu of flowers please donate to the Holy Name Society or Collins Correctional Ministry.
Arrangements entrusted to Laing Funeral Home Inc. Eden.
Words of sympathy on www.LaingFuneralHome.com